Conversion tracking is crucial for affiliate marketing or other types of online advertising campaigns, as it allows advertisers to measure the effectiveness of their campaigns and optimize them for better results.
Conversion tracking in Mondiad is very simple! To increase the productivity of your advertising campaigns and save money, you can use the postback tool to gather statistics through any ad tracking service of your choice.
At Mondiad, you can do so via the S2S (server-to-server)postback URL tracking. With this method, conversion data is sent directly from the advertiser's server to the ad network's server. This method is more secure and reliable than others as it is not susceptible to forms of tracking prevention like ad blockers.
A postback URL contains tracking parameters such as clickID, campaignID, Adformat and so on. This information is used to attribute the conversion to the correct user and to track the performance of different campaigns and traffic sources.
***
Track and analyze such data as conversions, payout amount, transaction time, etc.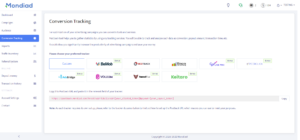 As each ad tracker requires its own custom setup, make sure to check out the integration guides below to correctly set up the Postback URL and macros you can use to meet your purposes.
+ others to come
+ custom options