Conversion tracking in Mondiad is very simple! To increase the productivity of your advertising campaigns and save money, you can use the postback tool to gather statistics through any ad tracking service of choice.
Track and analyze such data as conversions, payout amount, transaction time, etc.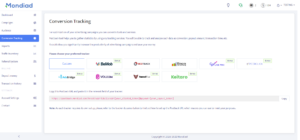 + others to come
+ custom options
Copy the Postback URL and paste it into the relevant field of your tracker.
As each tracker requires its own setup, please, refer to the tracker documentation to find out how to set up the Postback URL which macros you can use to meet your purposes.