If you're a Mondiad advertiser or thinking of joining the club, you'll want to read this next article on mastering Mondiad ads, namely learn a few strategies for campaign optimization.
But although the title of this piece is pretty clear, you might also wonder WHY should you optimize your ad campaigns as well as WHEN to do so. Believe it or not, there is much confusion on this topic and many different answers, depending on who you're asking.
Let's start with the logic part, why should you optimize your ad campaigns? 
Well, because you can, and that's the beauty of it. Compared to traditional advertising where you had to plan everything in detail from the get-go and wait for the campaign to end to see the results, in the digital realm, you can take action mid-action.
Whether you're adjusting your ad creatives or changing your targeting, just imagine how awesome it is that you can analyze your campaign performance in real time and fine-tune it to reach better results. Regular monitoring and optimization is the key element in paid advertising.
Now on the second part, the HOW to optimise your ad campaign. 
Assuming we are past the traffic inventory check, and account top-up and we've set all the campaign basics like ad format or targeting, let's deep dive into how to fully optimize a Mondiad ad campaign, for best results!
***
Draft creatives that convert!
🔹You can use the following tokens in the title and description of your ad creatives(for push and native ads) and each user will see their own values when viewing your ads: [country], [region], [city], [platform], [os], [browser]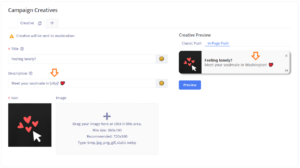 🔹Play-test with multiple ad variations such as headlines, images or call-to-actions to figure out the best-performing ones. In Mondiad you can use a maximum of 10 creatives per campaign. 
🔹 If you need a hand with crafting your creatives or just a pinch of inspiration, here's our take on how to craft ad creatives that convert.
🔹 And lastly, go for spy tools as an extra layer of inspiration for creatives that work in your niche of choice.
***
Know your tokens!
Normally, the more data you can get, the more you can understand about your campaign and thus, optimize the results. For this reason, it is advised to make use of target URL tokens to gather valuable data about your campaigns' performance and provide a more personalized user experience for your website visitors.

These tracking tokens are typically used in digital marketing and online advertising to monitor and analyze the performance of various campaigns and to understand how users interact with the ad.
[clickid] – Unique ID used for conversion tracking

[zoneid] – Zone ID is our token for publisher id and represent a group of subids

[subid] – Subids belong to Zone ID and are usually used for a granular campaign optimization

[country] – Country Code (2 letter country code like US, FR, DE, IT)

[campaignid] – Campaign ID in our system

[creativeid] – Creative ID in our system

[os] – Operating system name (Windows, Linux, Android, etc.)

[browser] – Browser type name

[subscriptionage] – How many days ago the subscription occurred

[bid] – Bid value (CPC, CPM)

[adformat] – Represents the Ad format (Classic Push, In-Page Push, Native, Banner)

[browserversion] – The version of the browser

[osversion] – The version operating system

[region] – Name of the visitor's region

[city] – Name of the visitor's city

[connectiontype] – User's connection type, "mobile" or "wifi_wired"

[carrier] – The name of the mobile carrier (if using a mobile connection)
Implementing tracking tokens in an ad campaign involves adding specific parameters to the URLs associated with your ads. For each ad or campaign you want to track, create a unique URL by adding the tracking parameters to your destination URL.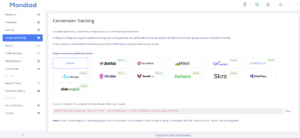 To do so, in Mondiad you'll need to also use a conversion tracker of choice, but fortunately, there's many options available. To learn more about this aspect, head over to our conversion tracking section from our platform.
***
How narrow is too narrow of a campaign targeting?
🔹 It's ok to launch a campaign with no limitations or broad targeting in the beginning and run it for a week while you monitor statistics. In time, you'll be able to identify the parameters that work best.

🔹 Leave at least 3 days before starting to optimize your ad campaign. Optimising too quickly will only hinder your performance because there hasn't passed enough time to collect enough data to understand what's happening so you will only feel lost.
🔹 Always leverage the targeting capabilities of your chosen advertising platform and segment your traffic as granularly as possible. Doing so you'll get higher conversion rates since your budget is efficiently used to reach your goals. 
Mondiad ad campaigns allow advanced targeting filters such as Country, Region & City, Carrier, Device Type, Device type, Operating system, Operating system version, Browser, Browser language, Browser version, Subscriptions Age, Traffic Type, ZoneId, SubId.
🔹 At the same time, avoid over-narrowing your targeting since you risk not getting enough impressions/interactions worth your effort. Not enough traffic volume is a big no-no as well.
🔹 Split testing your campaigns is also a great method of optimization. When you figure out what performs best, you can create a separate campaign with those winning metrics like top-performing GEOs or zone IDs. This way, the least-performing metrics won't drag down the whole campaign while you also get valuable information to drive better results. Keep in mind you should test one variable at a time.
🔹 We recommend creating two separate campaigns for Classic and In-page push ad types, for better optimization and reporting.
🔹 Asses the quality of your ad zones. Assuming you've figured our what ad zones perform well and which ones does not, create your whitelist/blacklist for better future optimization and workflow. Be careful to create separate lists depending on the vertical you are working with and to monitor these lists since consumer behaviour changes over time.
🔹 While desktop is commonly targeted during business hours and is preferred for the older generations, the versatility of mobile devices allow more advanced segmentation, which also translates to higher conversation rates. Just think of the plethora of carriers, screen sizes and other several variants you can target.
🔹 Make use of Mondiad audiences to create and collect lists of ZoneIds/SubIds to be used for campaigns as Whitelist/Blacklist default sources. 
🔹  Automate the disabling of low-performing creatives, SubId, ZoneId and campaigns via Mondiad's optimization rules.
🔹 Always use ad trackers if you want to further understand the behaviour of your audience. Who wouldn't want a clearer picture of their customer's path to conversion and to prevent unnecessary ad spend wastage?
***
Is it always about large budgets?
Theoretically, the more you test your campaign, the better the results, so having a larger budget would be great for testing purposes as well. In reality, a reasonable budget will just do if you learn how to play your cards right.

🔹 When starting a new campaign, it is advisable to have an estimated overall spending budget for the traffic so you won't burn money you don't have​.
🔹 Always check the traffic inventory for the average bid price of your targeted GEOs. Your starting bids should be lower than the average but don't shy away from increasing them later,  for specific zoneids/subids showing potential, to get more of that traffic.
🔹 Be attentive to your budget when targeting. If you don't set particular GEOs for your ad campaign, your budget might be drained very quickly. This situation can happen when one chooses global coverage for its campaign but due to such a large targeting, the budget is consumed almost immediately.
🔹 After deciding on your total budget, divide the amount into parts that are to be spent daily, for more controlled results.
🔹 Make use of Mondiad's custom bidding by SubID, ZoneID, and Country(in this priority) to fine-tune your campaign results by increasing the bid on the converting zones you identify, to get more traffic.
***
What about ad scheduling?
🔹 Don't overstep with the promotion of your offer. People are bombarded daily with lots of ads and promotional content, making browsing the web an annoying experience. Ad fatigue is a real thing so focus on finding the best time to show your ads to your ideal audience via testing.

🔹 For better results, always look at the times when your target audience is online and the location variations that can help you reach your goals. It is advisable you specify a campaign running period as well as set up specific running days and hours via the day-parting feature. Also, since advertising is a worldwide deal, it's a great idea to set a campaign running time intervals based on the time zone of the targeted country. 
***
🔹 And last but not least, ask your account manager for recommendations.
To sum up…
Start broad then narrow down your targeting as much as you can by testing for converting parameters.

Allow enough time between edits so valid results can gather and you can make your next move.

When in doubt, ask for help. A second opinion is always welcomed!