As the internet becomes increasingly saturated with content, affiliate marketers need to step up their game to combat the rising competition.
Enter ChatGPT, everyone's favourite AI-powered ally! Launched not long ago, on November 30, 2022, OpenAI's ChatGPT generated a great deal of excitement among both netizens and Big Tech which hurried to launch other AI chatbots due to this craze, not long after. 
But what's with all the buzz? Is making money with ChatGPT a reality?
Let's just start with the fact that in just 5 days after its launch, ChatGPT reached 1 million users. Add the vast capabilities of its applications, the free version and society's general taste for tech innovations.
More than this, there was always wonder about how the world would perceive artificial intelligence when the time comes. 
60 years ago, Tom was the first to lose his job because of Artificial Intelligence(AI).
Is this going to be our fate too?!

Lots of sceptics say AI is here to take our jobs, but until proven, we say AI it's here to make our jobs easier. And here at Mondiad we do love smart technologies, so without further ado, here is our piece on how to use ChatGPT in your to step up your marketing game!
🔸
Chat GPT capabilities & limitations:
GPT stands for Generative Pre-trained Transformer and it basically generates text-given inputs. Or, more simply, it is an artificial intelligence smart chatbot which can:
Generate responses to a wide range of topics and styles

Generate long-form content for various channels

Translate languages

Summarize text

Rephrase existing content

Generates code & debugging
… and many more.
❗ It is important to know that ChatGPT works best when provided with detailed information and instructions, rather than just basic questions.
⚠️The output may not always be accurate so it is important to have a fact check as well as some human review of the generated data.
⚠️ChatGPT's data knowledge does not go beyond September 2021 so it won't know data that happened later than this period.
---
🔸
ChatGPT for advertisers & affiliate marketers:
Making money with ChatGPT as an affiliate? Let's explore some ideas that could help you promote your offers!
1. Conduct market research
a) Research affiliate programs for the best offers for your interests:
"Find me the [adjective][vertical] affiliate programs."

b) Research your target audience / improve your ad targeting.
"I sell [product description. Create my buyer persona based on [parameters]."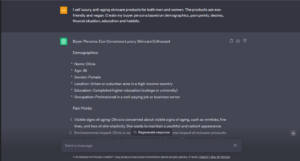 c) Research your competitors
"What are the top competitors for the [product description]? Give me an analysis of their marketing strategies, strengths, and weaknesses."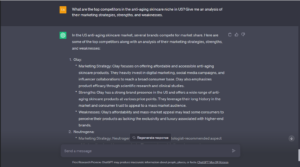 2. Content research, creation, and optimization
a) Research topic ideas
"Help me research article ideas for my [product/niche] blog. My topics are[topics]. Provide a list of blog post ideas based on these topics."

b) Research title ideas
"Give me [number] SEO-friendly blog post titles for the topic: [topic]."

c) Write persuasive copy for ads
"Write me a catchy and persuasive title for my [ad type] ad. My ad is promoting [product name], [product description]."

d) Research keywords/hashtags
"List 10 keywords people might use when searching for our [product]."
e) Generate blog articles
"Write an [number]-word blog post about [descriptive topic]. Make sure to include the following keywords in the [where] in a SEO-friendly manner: "keyword 1", "Keyword 2", "keyword 3".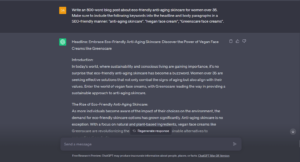 f) Generate social media captions
"Write a promotional LinkedIn post about [product or service]."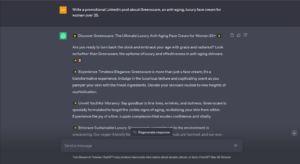 g) Generate product descriptions
"Write a [number] words description for a [product] including keywords: "keyword 1", "keyword 2" etc."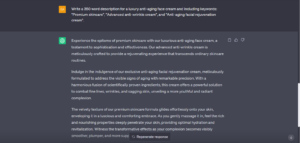 3. Landing page creation & optimization
a) SEO optimization
"Give me keywords and phrases that I should include [where] about/for an [product description] to improve its search engine ranking."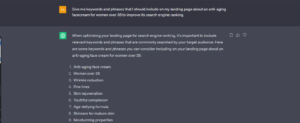 b) Generate copy for your website
"Write a title page for [website] and include keywords: keyword 1", "keyword 2", "keyword 3"…

---
🔸
ChatGPT for ad publishers:
Create top-notch content for your website to boost your revenue!
1. Conduct market research:
As a webmaster who is interested in monetizing their website, it is important to analyze data and identify trends, especially when starting out. Whether you are just starting to choose your niche or looking for latest trends in your industry, ChatPGT will help you streamline this process.
"What are the most profitable niches for website monetization?"

2. Draft engaging articles for your website and social media profiles.
With more than 1+ billion websites out there, competition is fierce and it's going upwards. So the better your content, the more traffic for your website, and more revenue for you. Use Ai to generate engaging content for your audience and grow your visibility.
⚠️Note that it is important you tweak all texts generated by AI to avoid triggering the Google spam filters.
"Write a [number]-word blog post about[topic description]. Make sure to talk about [more detailed description / the structure of the blog / keywords to include]."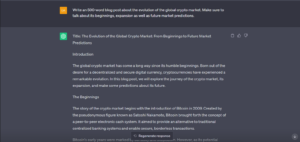 3. Optimize your website content so it performs better.
[action desired] my homepage content into [detail your need]. The text describes [describe your text using relevant details]. Here is the text: "insert the text".

4. Research monetization strategies
"What are the best website ad monetization strategies for a website about [topic[, with a [describe the website audience]."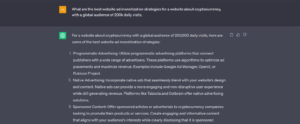 5. Build your website:
a) Built your website outline:
"Give me a [number] paged website outline for [website/product description]."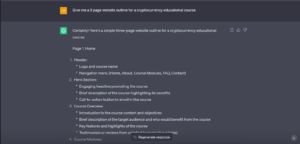 b) Generate code snippets to create/optimize basic web pages
"Generate a web page [type of code] code for a [type of page] with fields for [field 1], [field 2] and [field 3]."

6. Optimize your website:
Get recommendations for tools and resources to streamline the development process and improve efficiency.
"Recommend me [what] for a [describe your website] website."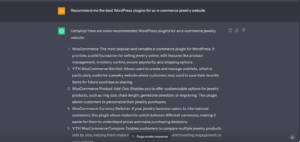 ---
🔸
Cool AI tools for everyday use in your advertising endeavours
The cool thing about the latest AI hype is the multitude of applications and software availability. As a marketer or a businessman in general, there are many AI automated tools to ease up your daily talks, from text to photo AI generators(like Canva), AI-powered video generators(like Rephrase) to SEO optimization(like Semrush). And the list could go on and on.
---
Conclusion?
Making money with ChatGPT is already an easy task and many businessmen capitalize on this opportunity. Chat GPT is a powerful tool for marketers of all sizes and from all niches. It's a one-stop shop that speeds up your business process so your money comes faster. It helps you reduce perhaps the most significant cost: labour which in turn costs you time, money and knowledge.
Don't miss out on this opportunity now that you've got the advice to jumpstart your Mondiad experience.