Did you know that online ads have become more popular than traditional advertising? It is estimated that digital ads will reach more than 65% of the global ad spend by 2023, showing just how powerful it has become in generating ROI. 
Now, are all ads efficient or is there a recipe that makes them convert? Perhaps there`s not, as each ad is unique in its own way but there are definitely some key elements that make them work. Let`s dig into it!
So what is an ad creative?
Simply put, the ad itself is basically represented by all its text and visual data, also generally known as a creative.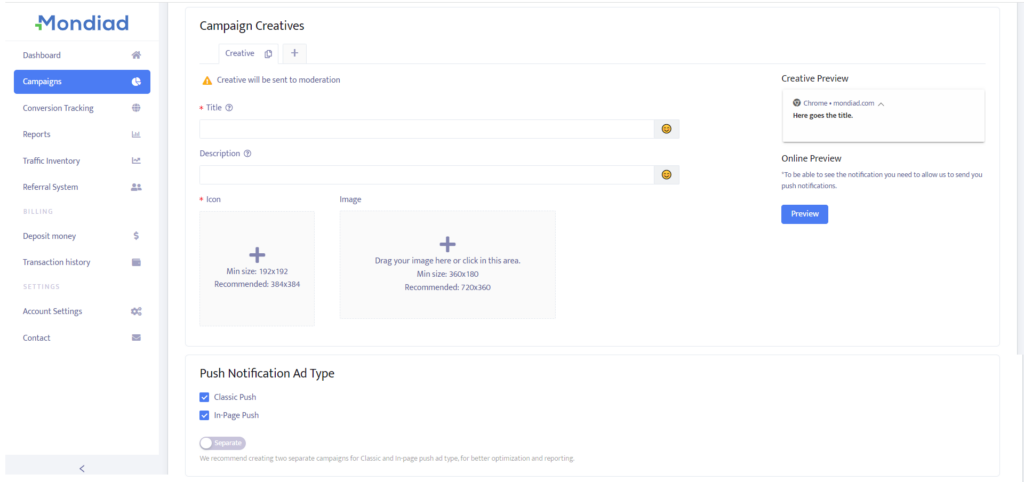 When you create your campaign in Mondiad, you`ll be able to design your creatives by giving them:
a title;

a description;

an image;


an Icon.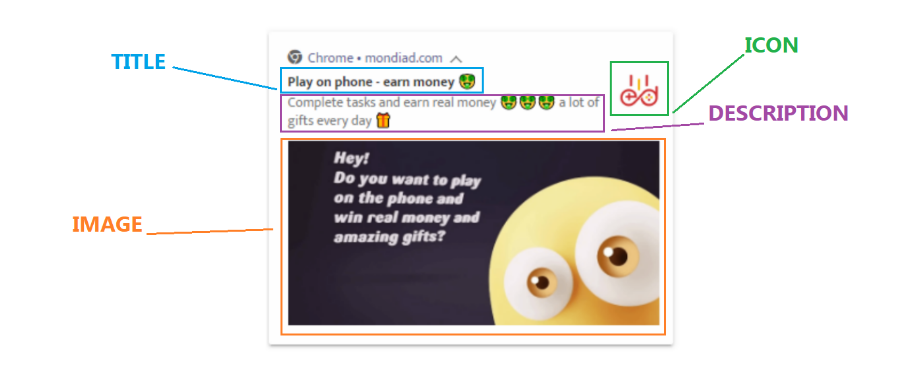 With Mondiad, you can create a number of 10 creatives in a single ad campaign.
What do you need to know before crafting your creatives that convert?
Your product /service

Your audience

Your goals

What is it about

Its usage

Its benefits

Demographics

Behaviour

Interests

etc

Gain leads,


Grow traffic, 

Drive sales, 

Get click, 

Etc;

Brand awareness

Expand customer base

Customer loyalty
-> Based on this analysis you can know think about your strategy, namely the configurations that would work best for your business: your ad format. your vertical(s), your GEOs, the ad display settings, ad campaign budgeting, ad campaign targeting… and lastly the design of the creative itself!
What do creatives that convert require?
Attractive visuals & copy: 
keep your text simple, compact, and easy to read;

include a clear Call-to-Action;

use emojis in your

Title

and

Description

to make it more visually pleasing.

choose the best ad format: In-Page Push, Classic Push, Natives;

use high-quality imagines and an adequate colour scheme;

configure your best ad display parameters.
Customization:
Customize your creatives as much as you can to make the viewers more attracted and relatable to your ad. For example, in Mondiad, you can use the city, or country in your title and description.
Campaign targeting:
Geo, carrier, device type, browser, browser language, operating system, subscription age, traffic type, zoneids, subids… the way you configure them will affect the effectiveness of your ads.
Mobile & desktop optimization:
Make sure your creatives are desktop and mobile-friendly. In Mondiad, you can preview your creatives before publishing them.
Leveraging evergreen & viral content:
If it`s relevant to your product/service, when it is possible, make use of viral marketing. For example, you`ll have more chances to gain clicks if you are selling ice cream in the summer.
Making use of FOMO(if relevant):
You can always make use of FOMO(fear of missing out) in your ads. People are more prone to click on offers that are limited or exclusive!
Being consistent with your brand:
Speak to your customers in their language. Don`t try to sound fancy if that is not your business style. Be authentic to make viewers trust you and relate to your offer.
Insert your logo.
For example:
✨ The icon: Keep it simple and recognizable.
🎨 The image: Make your image easy to scan and draw attention.
✍️ The title & description: Write addressing directly to the viewer and include a call to action for clarity.
Now that the curtains have been lifted, don`t forget to customize and test your creatives!