Regardless of how seasoned a marketer you are, books offer in-depth knowledge and unique perspectives of those who have walked similar professional routes. Keeping on with your reading will only broaden your horizons, inspire new ideas, and enhance your marketer's skills and decision-making abilities. 
A successful marketer also knows how game-changing it is to stay up-to-date with the latest trends, strategies, and insights in the ever-evolving world of marketing. So use this article with our book recommendations as a guideline in your reading journey. We've compiled a list of must-reads, starting with the fundamentals to more complex lectures, advised by industry experts themselves.
Happy reading!
***
This Is Marketing – Seth Godin

Most likely, if you are reading this, the name of Seth Godin is not unfamiliar to you. As a renowned author and entrepreneur from the USA, Seth Godin is today one of the most influential marketing figures in the world as well as a well-known TedTalk speaker.
But among his many best-selling writings, here's one fundamental read for the marketing enthusiasts of today: "This Is Marketing".
This short but concise read is the perfect starting point for any entrepreneur avid to discover the digital world and its business potential. Find here how marketing has evolved over the years and how to embrace the modern marketing mindset to succeed in your endeavours. 
All in all, this book will give you all the fundamental marketing skills to start your journey and all the success stories to inspire and bring you closer to your dreams. 
***
101 Ways to Advertise Your Business: Building a Successful Business with Smart Advertising – Andrew Griffiths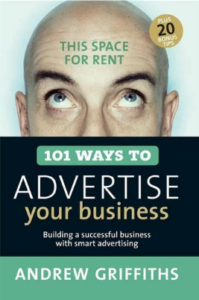 This one is a book full of proven practical tips and creative ideas to increase the effectiveness of your advertising, although it talks about both traditional media as well as digital methods.
Andrew Griffiths is an Australian entrepreneur and author widely recognized for his practical business advice for professionals of all levels. His books often cover a wide range of topics related to entrepreneurship, marketing, advertising, and business growth and "101 Ways to Advertise Your Business: Building a Successful Business with Smart Advertising" is just one example.
As the title implies, there are 101 detailed strategies with real case studies on how to craft successful, cost-effective advertising campaigns tailored to your goals. Even if you are already a seasoned advertising professional, you can use this book as a checklist and figure out if your advertisement is working to its full potential.
***
Digital Marketing for Dummies – Ryan Deiss, Russ Henneberry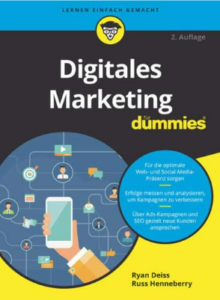 As silly as it may seem at first glance, this book is actually a goldmine of information on anything affiliate marketing related. It offers a complete journey through all you need to know about this business model, from how to choose the best affiliate products, or influencer marketing, to the best strategies to engage your audience in a changing digital world. It offers a broad(but not deep) understanding of all the major digital marketing topics like SEO or advertising – which is why it is a perfect starting point reading on your journey to online success.
All in all a great introduction to the lingo and tools of digital marketing and a must-read practical guide on every digital marketer's bookshelf.
***
Ogilvy on Advertising – David Ogilvy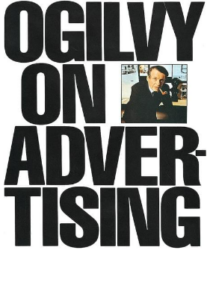 Timeless secrets behind advertising that works and dry humour from the legendary David Ogilvy. This next book is a must-read for marketing and advertising professionals who want to learn important messages from an experienced, inspiring ad-man.
Although it was written decades ago(1985) and it shows its age, this read encompasses the mechanism of many principles that are still very valid and efficient today. So if you want to create advertising that sells, this book is for you. From copy to designing to marketing and finance… all the fundamentals to get you started are explained here.
On another note, if you fancy working at or running an ad agency, this book offers you great insight from inside the business, including how to find clients. In his book, Ogilvy shares how he founded his own ad agency Ogilvy and Mather and how he handled large brands like Rolls Royce or Dove. And take note he started his career by selling cookers door-to-door in England. A great dose of inspiration in this book if you ask us.
***
Scientific Advertising – Claude C. Hopkins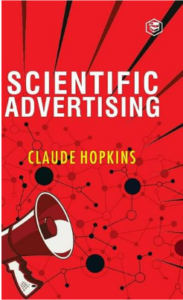 "Scientific Advertising" is another widely studied must-read on advertising and the book has influenced many generations of professionals. Written in 1923 by Claude C. Hopkins, a pioneer in the field of marketing and advertising,  it's a plea for advertisers to focus on a more scientific approach when it comes to advertising. 
Rather than relying on intuition, Hopkins emphasizes the importance of research and testing based on data when it comes to advertising campaigns. He was also one of the first ad men who laid the basis for A/B testing and an avid enthusiast of tracking data. Hopkins was avid in using the right KPIs to determine a campaign's effectiveness, and this can be seen when he invented the coupon as a metric to track sales.
***
And now let's hear some direct recommendations from none other than industry experts. What better guidance to help you navigate the vast sea of knowledge than specific impactful reads from experienced peers?
Mondiad: What book would you recommend to fellow industry peers and why? What is something you've learned from it?
Marketing Made Simple – Donald Miller

"I'm the kind of person who learns purely from experience and not from books, I'm a hardcore practitioner. But, you know, there's one book that comes to mind. I just read it, and it's helping me rebrand my website right now: "Marketing Made Simple" by Donald Miller.
This book walks you through the process of designing and implementing a sales funnel that will increase web traffic and drive sales. It's equally well suited for executives seeking business growth, as well as individuals managing their ad campaigns. Whether you're looking to refine your ad presentation, sell effectively through ads, or craft compelling landing pages, this book offers valuable insights."
😎 Ivan,  Chief Marketing Officer @Keitaro
***
12 Months to $1 Million – Ryan Daniel Moran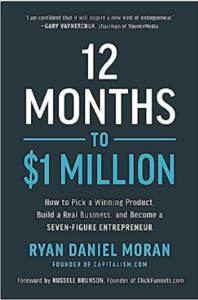 "The title obviously grabbed my attention with this one. It seems almost too good to be true, right?
The book provides a step-by-step guide for entrepreneurs who wish to create a successful, profitable business within a year. Moran shares practical insights into building a million-dollar business from scratch, outlining a clear path and offering key strategies for success.
A few key takeaways I learned from this book were to identify a small, specific audience and niche I know well, to prioritize profit, and to be consistent with content creation. (I created FPTraffic just for this)!
These 3 things are a little harder to apply to affiliate marketing specifically since you have little control over the product, but they are 3 things I have focused on when building my businesses (including affLIFT). Good luck!"
😎 Luke, Founder @AffLIFT
***
Contagious, Why Things Catch On – Jonah Berger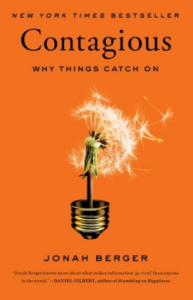 "As a professor at the Wharton School at the University of Pennsylvania, Jonah Berger shares the secret of how and why things go viral. The book is full of actionable techniques for helping information spread as well as compelling case studies supplemented by photos, charts and other catchy visuals. This read also focuses on matters of psychology, sociology, and behavioural economics but all in all, an informative, interesting, easy read on advertising."
😎 Larry, Chief Operating Officer @PopCash
***
We hope this article helped you build a well-rounded library that covers essential and impactful understanding of digital advertising. ✌️