With the growth of internet accessibility and the shift from the offline to the online world, digital advertising has long overtaken traditional advertising. As a webmaster, much like the advertiser, in the dynamic online landscape, staying ahead in the game requires a strategic approach to maximizing ad revenue.
To capitalise on ad revenue with your website, the goal is to optimize it to gain more daily traffic and to make your space attractive to advertisers, ultimately increasing your ad revenue. At the same time, evolving consumer behaviours, technological advancements, and industry trends are constantly shaping the way ad publishers must approach ad revenue optimization.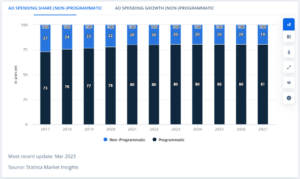 So whether you're an experienced publisher navigating the shifting tides or a newcomer seeking to get started, let's explore 5 essential ad revenue optimization strategies for publishers in 2023.
---
---
How does ad revenue work for publishers? 
Any webmaster with a website showing a decent amount of daily traffic can generate revenue by selling their ad space to advertisers. This ad inventory can be sold directly to advertisers but the most preferred method is selling via programmatic advertising which automatically facilitates this convention between advertisers and ad publishers. 😉💲
Ad revenue is generated when your website visitor is shown an ad(per impression) or clicks on one(per click/conversions). In fancy words, advertisers bid for ad space via CPM (cost per 1000 impressions) or via CPC(cost per click). Additionally, there are more ad revenue models but these two are the most common.
---
Enhance User Experience(UX) & Web Design 
A smooth user experience translates to a growing, long-term ad revenue potential. 🎨⚡️
But a smooth user experience is also made of a plethora of things, not just one. The best trick to discover what's missing is to put yourself in the shoes of your users. Is there something lacking or missing?

First of all, there's the speed load and the overall website responsiveness. In this case, make sure your media is compressed and loads quickly, your template/layout fits and everything works in accordance with the screen size.
Similarly, if your website is not optimized for mobile devices, what are you waiting for?! Today about half of website traffic worldwide comes from mobile. You are hurting your SEO and you are losing visitors!
And lastly, is your website easy to navigate? Is it logically structured and visually appealing? These things may sound irrelevant, but they can be game-changing elements.
---
Optimize your content 
Assuming all is right with the design of your website, it's time to focus on its content. Perform a content analysis to highlight any missing gaps to capitalize on. Check your niche competitors, check the current trends, check predictions, check the quality of your content and also its readability. ✨📝
Content and user experience are the primary cues that bring you website visitors and furthermore keep them engaged. The more a user stays on your website to read your content, the more chances for him to view more ads, increasing your revenue.
To produce quality content for your niche, you need to understand your clients and you'll need information like demographics, interests, physical traits and whatnot, depending on your niche. The thing is, the narrower your target audience, the better the results.
Additionally, don't forget the importance of SEO. With such high competition nowadays, your content should be SEO-friendly so make sure you include your keywords and backlinks when producing your content. The more visible your website will be, the more traffic you will get for your ads. 
---
Test with various ad formats 
One of the easiest and most logical ways to increase your ad revenue is to test out different ad formats as well as ad displaying parameters. 🎨🆎
For example:
Classic push notifications

take no space on your website reaching users directly through mobile or desktop from everywhere.

In-page push ads

are embedded in your website, showing up like notifications and being compatible with all devices.

Native ads

are seamlessly integrated into the user experience, looking similar to related content on that page and generating more revenue than traditional ads.

Banner ads

are very versatile with placements, leading to higher attention-grabbing among website visitors, namely more conversions.

Pop ads

are best known for being the most non-intrusive ad types out there since they pop up or under the main window.
… and so on and so forth.
The beauty of advertising is that although there are a few guidelines to bring you closer to success, there is no secret recipe and no one-size-fits-all solution when choosing the right ad monetization plan.  So keep testing to determine what ad types work for your website and what impact each has on your ad revenue.
---
Optimize for viewability 
Assuming you've already tested your ad types of choice, make sure you optimize for viewability. Simply put, this means to ensure that your ads of choice are well noticeable. ⚙️👀
Although it may sound easy, this part may be tricky depending on your website's niche, layout or ideal target. There are several elements to consider before making a choice: the shape of the ad, its size, its placement, the device it will host it (desktop or mobile), the geolocation of your visitors and also ad display parameters.
For example, you might have heard the expression "above-the-fold advertising". Although it stems from the newspaper era, ATF is still used today to refer to the front of a page shown on the screen when the page has loaded or before the user scrolls down. For being so noticeable to user, ATF is preferred by many advertisers for being more prone to being interacted with.
Also, keep in mind that advertisers are not all running for clicks, but also impressions. Impressions are a metric that is easy to scale and it is very important for advertisers who are just looking for brand awareness, not sales(clicks). Since CTR(click-through rate) is not the only metric advertisers are looking at, it is critical for publishers to make their inventory more appealing by optimizing their ad space for viewability.
That being said, improving your ad space viewability will result in your website being more appealing to advertisers and thus generating more revenue.
---
Sell your ad space via ad networks 
If you are not already part of it, welcome to the lucrative world of programmatic advertising! 💸
According to Statista, "In the Digital Advertising market, 81% of the Digital Advertising revenue will be generated through programmatic advertising in 2027." 
By making your ad space available to an ad network like Mondiad, you allow its thousands of advertisers to bid on your ad inventory, leading to higher CPM costs, thus increased ad revenue for you. And the beauty of it all is that it is free, quick, easy to set up and all in your control. Just submit your website, configure your ad zones and let the platform bring you money! 
At Mondiad, withdrawals start at only 10$ via a plethora of payment processors, including cryptocurrency. You can withdraw your money daily or set up automatic recurring payments to save time. Pretty cool, right? At Mondiad there are several tools to fine-tune and automate your workflow so you can focus your time on whatever you like.
---
From testing out ad formats to prioritizing user experience, these 5 essential ad revenue optimization strategies for publishers are not only a catalyst for financial growth but also for fostering sustainable long-term, relationships with both advertisers as well as your website audience.