Moving on to the Deposit Tab, here you can deposit money for your ad campaigns, make an instant payment or submit a request for other payment methods.
Currently, we offer this selection of payment processors: PayPal, Paxum, Capitalist, Payoneer, Voucher, Cryptopay, Card. 
For more information regarding payments, click on the payment method you want to choose and follow the instructions shown on the screen. 
The minimum deposit amount is $50.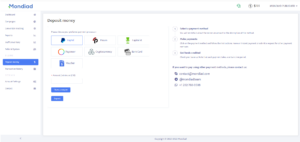 A tab below, in the Transaction History section, you can check out the status of your transactions, according to: date & time, type, payment processor, amount, as well as the status of your transaction.
By clicking on the icon, in the top right. you can download your invoices in PDF format as well as set up billing details in the opening pop-up(or from Account Settings).