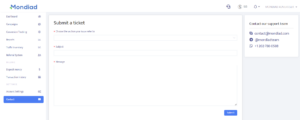 a) Report a problem by fastly submitting a ticket directly from the platform. Choose the issue type, write a brief subject as well as your message explaining the problem.
b) We suggest you also check out our FAQ page before submitting issues.
c) For further inquiries, you can also contact our Support Team:
Skype

: contact@mondiad.com

WhatsApp

+1 202-788-0588

Live chat with our wizards by clicking on the headset icon up there
d) If there is anything you`d like to add, we are happy to receive your feedback by taking 5 minutes to fill in this Customer Feedback Survey.